Physical Therapy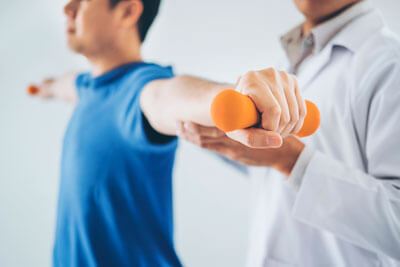 Loss of mobility and pain are two of the most common reasons that people in the Excelsior community no longer do what they love. It is for this reason that we were inspired to offer physical therapy services at Knewtson Health Group. Physical therapy aims to give you a deep understanding of body biomechanics and how your nerves, muscles, and joints need to work to live a better life.
How Does it Help?
Physical therapy can help you to avoid surgery, injections, and prescription drugs to treat pain and loss of mobility of the back, neck, arms, and legs. Research has found that for common conditions, such as low back pain, sciatica, and disc herniations, physical therapy is often more cost-effective and provides long-lasting relief from pain. Additionally, physical therapy promotes movement, activity, and healthy lifestyles that reduce the risk of osteoporosis, stroke, and heart disease, as well as decreases obesity and related conditions. Overall, physical therapy improves your quality of life for now and years to come.
What to Expect
As part of the integrative, whole-body healthcare that we offer for the Excelsior community, your physical therapy treatment will have a combination of specific manual treatments, therapeutic exercises, and functional training that is focused on restoring your quality of life and maintaining a functional state of fitness. Some examples of treatment methods may include dry needling or use of the McKenzie Method. Each of our patients receives a tailored treatment plan that includes education, home exercises, and stretches that target your specific needs. Our physical therapists also utilize a variety of other therapies depending on your condition and needs.
Start Living a Better Life
With physical therapy at Knewtson Health Group, you get one-on-one care that you need to restore mobility and get back to doing the things that you love. Call us today at (952) 470-8555 to schedule your appointment.
CONTACT US »

Physical Therapy Excelsior, Shorewood, Lake Minnetonka MN (952) 470-8555