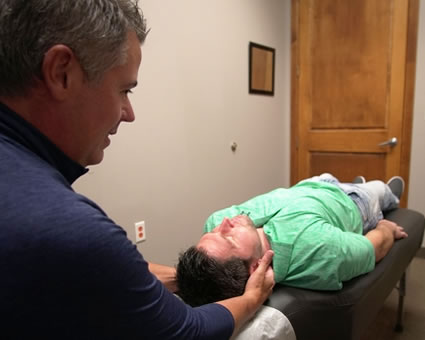 Acupuncture
Acupuncture and cupping are still relatively new health care options for many people in the Excelsior community, but it has been used for thousands of years in China and throughout Asia. As a centerpiece of traditional Chinese medicine, acupuncture is rooted in the idea that your body should be in balance both internally and with the world around you.

Physical Therapy
Pain and loss of mobility are two common factors that limit people from doing the things they love and enjoying the active lifestyle that our community offers. Physical therapy can help. It is based on a deep understanding of body biomechanics and how the nerves, muscles, and joints should work during optimal health.

Pregnancy and Pediatrics
Massage during pregnancy has the dual benefit of relieving pregnancy-related aches and pains, as well as reduce labor time, enhance the physiological and emotional well-being of both the mother and baby, and decrease stress and anxiety. Chiropractic care is also appropriate for babies and children.
Nutrition
Knewtson Health Group offers nutrition services, including personalized counseling, diet planning, and supplements. You learn about the micronutrients, vitamins, and minerals that your body needs to heal and function properly.

Personal Training & Sports Injury
In our clinic we are continually seeing muscle, bone, and joint problems that can be prevented with a more functional approach to personal training and sports medicine. We sum up that approach in three words – Structure. Function. Performance.
Cold Laser Therapy
Our team integrates cold laser therapy with other techniques to promote self-healing of your body. The treatment is very relaxing, and you may only feel a slight warming sensation. Cold laser therapy stimulates cell development and other functions in your body.

Integrative, Comprehensive Healthcare
Our integrative, comprehensive, whole-body approach to healthcare helps you feel better and live a better life. Call Knewtson Health Group today at (952) 470-8555 to schedule your appointment.
CONTACT US »

Knewtson Health Group Services | (952) 470-8555