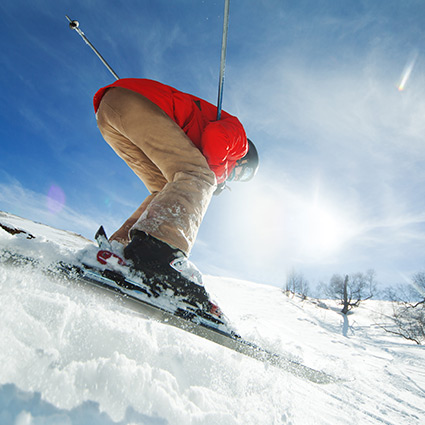 We mean it! It's time to get ready! We see a ton of snow-related injuries around Lake Minnetonka every winter. One of the best things you can do for yourself is to get prepared. Don't let your snow preparation tasks wait until the night before the first snow of the year. Your future self will thank you!
It Snows Every Year. What's the big deal?
Yes, many of our patients are very familiar with the Minnesota winter, but there's something about summer that makes us all forget, mainly because we all like to pretend that the snow isn't coming back, we won't have to shovel, the pipes won't freeze and we won't injure our backs like we did last year.
The reality is that the snow is coming and the more time you put into preparing yourself, the more likely you'll avoid things like back pain, seasonal affective disorder, or winter weight gain.
1: Switch your summer workout for a winter workout
It's hard to maintain those trail hikes and bike rides in the winter. In fact, these activities might be downright dangerous with snow. Trade them out for snowshoes, or cross country skis.
Better yet, look into local gym memberships, especially if you just don't want to be outside in the winter.
Consider getting a treadmill, exercise bike, or other equipment for your home gym. These things can sell out over the winter due to demand. Avoid that problem by ordering them now.
A change in seasons can discourage us from maintaining good exercise habits. Start replacing them now so that you'll stay on top of your wellness through the winter.
2: Deal with the body pain today
If they're having pain, get a massage and address those issues now. When our body is in pain, we hold it differently to offset that discomfort, which can lead to more serious injuries. Feeling a little off? Make an appointment, we'll look at your posture and check on any discomfort. We've got physical therapists, massage therapists and acupuncturists all available to get you back in snow-shoveling shape!
3: Start Healthy Habits Now
Our team will help you figure out ways for your body to function at its best and give you tips to maintain that range of motion. We're happy to show you stretches and exercises you can do through the winter to keep yourself in top form for whatever the winter throws at you (digging cars out of snow, helping your kids with their snow boots or ice fishing season)
4: Practice proper body positioning for shoveling snow
Yes, there is a wrong way and a right way to shovel snow. Be sure to ask us for our snow shovelling best practices the next time you're in our office. Some of these things are better shown than told. We'll look at how you position yourself and make sure you're on the right track to avoid throwing out your back!
Contact Our Office
Make sure you and your body are in the best shape to deal with everything winter throws at you. Call our office today!