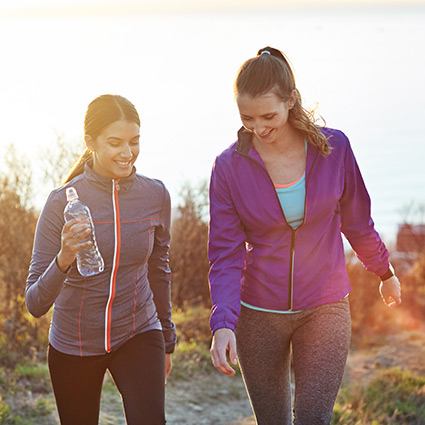 Everything you need to start and keep an active healthy lifestyle is available to our patients right here, or in any of the other towns surrounding the lake, and we're not just talking chiropractic!
Our patients love to hike and bike around local trails. Many of our local businesses sponsor and support athletic teams in both our area schools and local communities. We have organic restaurants and grocery stores. There's a fantastic farmers market in Excelsior as well as a few gyms, and other wellness centers in the area.
But how to begin? If we haven't been taking care of our health, then getting healthy can seem like an overwhelming challenge. There are habits that we've held onto that comfort us, behaviors that might be making injuries worse. The good news is that the Lake Minnetonka community is full of opportunities to add healthy habits to our lives and have fun doing it!
Healthy Living Starts in Your Mind
Beginning healthy habits can seem like a major challenge. So many of us imagine the most athletic people we know when we think about our wellness. However, you don't have to become an Olympian or a competitive triathlete to live a healthy life. Start small with a few changes in your habits and you will make a ton of progress. Remember, it's progress, not perfection.
Choosing a Healhier Lifestyle
You've probably heard this a million times, but it's true with almost anything: you get what you put in. If you don't care for your body, you're going to lose tone and functionality. Our cars can run far more miles when we commit to proper care and maintenance. You will want to do the things you love well into your 80's and 90's. You'll enjoy doing all the things you love more if your body functions properly without aches and pains.
Imagine a Healthier You
Setting aside a portion of your life to consciously caring for your body will pay dividends, whether it's eating more fruits and vegetables, moving your body and staying active, or committing to a wellness plan.
Forget that triathlete (at least for now, if you find you enjoy your exercise, by all means take it as far as you like!), start with 30 minute hikes and walks, once a day. Doctors say that frequency is more important than extended work outs, especially for people new to exercise.
Choose three simple healthy habits that fit naturally into your daily routine.
30 minute walks
Adding more fruits and vegetables to your diet
Getting frequent chiropractic adjustments
Why Chiropractic?
Chiropractic is a different approach to healthcare. A lot of folks imagine that it's just a back crack, but it's more comprehensive than that. Chiropractic care provides a framework where you can take stronger ownership to your health care and your body. Instead of waiting for something to go wrong, you meet with a chiropractor, who will listen to any and all of your health concerns. The chiropractor will make sure that your body is functionally aligned so that it can operate at its best.
Many patients enjoy having a partner in health with whom they can see patterns in their wellness, and keep track of goals. It gives patients a stronger sense of their own bodies and what works best for them. They see their chiropractors more often than their medical doctors, so those chiropractors are able to support them in their wellness goals.
Going Beyond Chiropractic
What's especially great about Knewtson Health Group is that we don't just offer chiropractic care, we offer a wide range of treatment modalities to help our patients recover from injuries and feel their best. If we feel that you'd benefit from nutritional changes, massage, physical therapy, or acupuncture you don't have to go anywhere else.
Start Your Healthiest Life Today
Call our office. Tell us what you're going through and we'll be happy to see whether we can be helpful to you!